Here are all [cartotalposts] of my posts:
[cleanarchivesreloaded]

Cartoons and text by Greg Uchrin (aka Gregorius alexandrinus), with the able assistance of Fred and Bert Squirrel. Published Tuesdays and Fridays.

SEARCH
CALENDAR
October 2023
S
M
T
W
T
F
S
1
2
3
4
5
6
7
8
9
10
11
12
13
14
15
16
17
18
19
20
21
22
23
24
25
26
27
28
29
30
31
NOTE ON COMMENTS
To leave a comment, click on the comment link at the end of the Posted on line under the title of the desired post. You do not have to be registered to leave a comment, but comments will be subject to editorial discretion--that means, no spam, no links to hate or p0|2n sites, and words that will get this site removed from strict SafeSearch queries will be replaced by @#$%.


Be There! Do That! Buy The T-Shirt!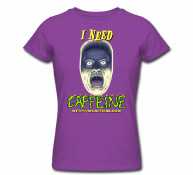 Help support our NEW website,
Intravenous Caffeine!
Available at
http://253056.spreadshirt.com/
Sends Us Lotses of Muneyz
No, seriously, send money. These squirrels demand pe-CAWNS!
All proceeds go towards supporting the new NON-Bush website
Intravenous Caffeine!
Visit My New Site